Root Canal Therapy - Westerville, OH
Revitalize Teeth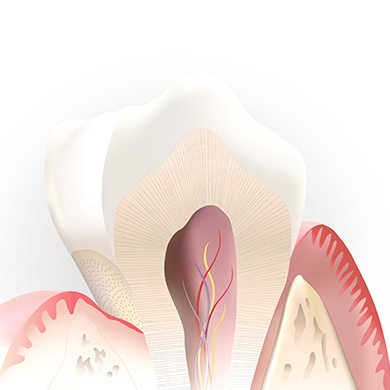 Root canal therapy is an effective way to relieve dental pain and maintain your natural tooth. Our dentists take the time to help you feel at ease throughout every stage of treatment. Today's modern tools and technologies assist in making the procedure as comfortable and efficient as possible.
If you have been referred to our Westerville, OH practice for root canal therapy or are searching for relief from a serious toothache, don't hesitate to contact us.
Do I Need Root Canal Therapy?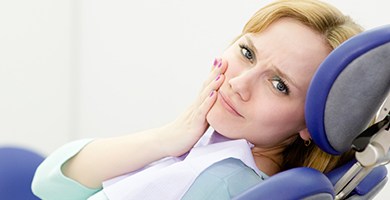 Root canal therapy becomes necessary when the tooth's inner pulp becomes inflamed or infected. This can happen as a result of deep decay, numerous dental procedures, damaged crowns or a crack/chip in the tooth. Trauma may also lead to pulpal damage even if the tooth appears intact. If pulp inflammation or infection is not treated then pain or an abscess may result. Common symptoms that may suggest the need for root canal therapy include:
Severe pain in a specific tooth
Constant sensitivity to hot and cold temperatures in a certain area of the mouth
Excessive oral tenderness when touching a tooth or chewing food
Inflamed gum tissue around a specific tooth
Discoloration or darkening of a tooth
What are the Steps of Root Canal Therapy?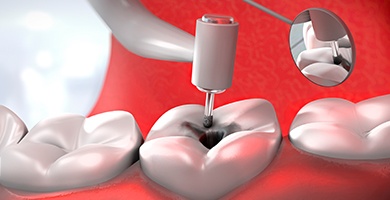 This treatment can typically be performed in one or two visits, depending on the extent of the damage. Our dentists will begin by performing a comprehensive evaluation with digital X-rays.
If endodontic treatment is needed to save your tooth, your tooth will be numbed with topical and local anesthetics. A rubber dam will be placed on the tooth for isolation and a small opening will be created in the biting surface of your tooth. Special instruments are utilized to thoroughly remove pulp from within the inner chamber and root canals. The diseased pulp is replaced with a safe, biocompatible material known as gutta-percha. The treated area is then closed with a temporary filling. In most cases, patients will need to have this filling replaced with a custom-made dental crown for optimal treatment success and longevity. Treatment is usually completed in one visit. Plan to spend 90 minutes to two hours at your visit. Complex cases may require one or more additional visits.
The average success rate falls between 85% and 97%! With the help of this specialty care, patients can look forward to maintaining their natural teeth for many more years to come.